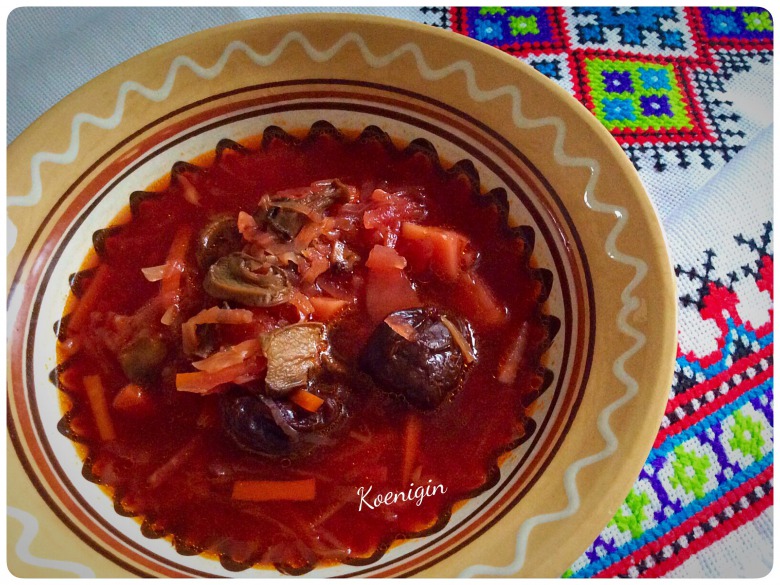 Ingredients
beet 2 PCs.
onion 1 PC.
Morkva 1 PC.
celery root 1/3 EA.
potato 2 PCs.
cabbage 1/4 PCs.
dried mushrooms 50 g.
prunes 10 pieces
garlic (cloves) 3 PCs.
Bay leaf 2 PCs.
tomato paste (concentrated) 2 tbsp.
Oliya 2 tbsp.
vinegar 1/2 tbsp
almost 1/2 tsp
SIL
Very tasty vegetable soup recipe from my grandmother. You can cook in the winter and summer, because it is very suitable chilled on hot days, and hot when you want to warm up.
Cooking
First, you need to pour warm water dried mushrooms and leave them for a few hours, so they are well softened.
Boil water (products listed on the 3 l pot). Onions and beets, wash and place in boiling, salted water (beets cut into 4 pieces). Boil for 20 minutes. Put in the soup and soaked the sliced mushrooms and keep cooking.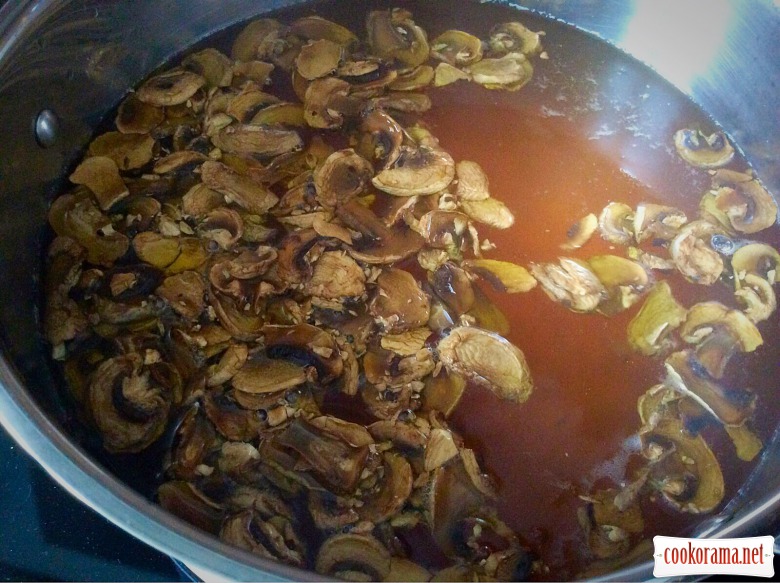 Carrots and celery to clean, wash and cut into strips. Slightly fry in a pan with butter and add to soup.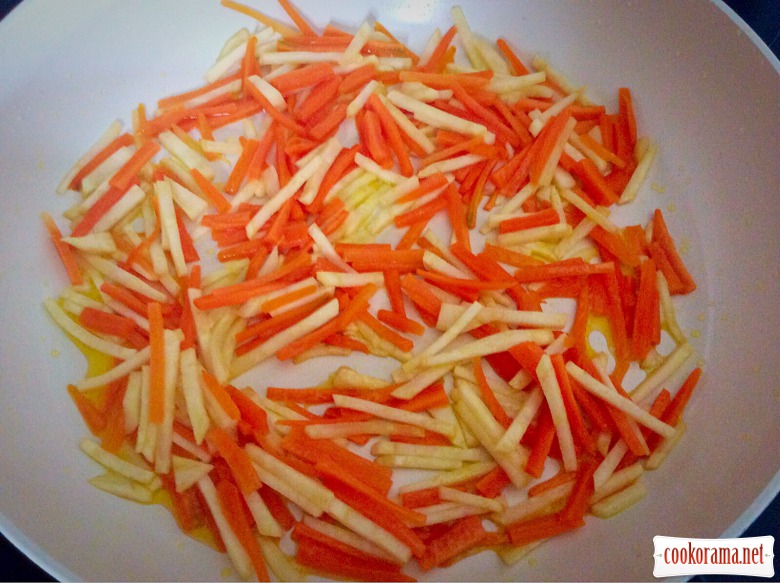 Put in the soup chopped potatoes. After 10 minutes add the shredded cabbage and Bay leaves.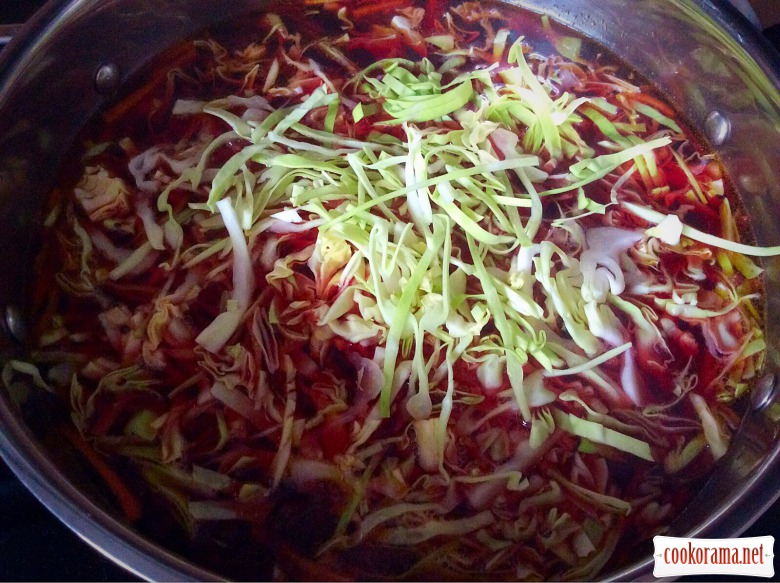 At the same time, from borscht to get beets, give it to cool slightly and grate. Again put in a saucepan.
Prepare the filling. In a pan pour 1 tbsp oil and fry chopped garlic, add the tomato paste and half a Cup of water (or liquid from the soup), vinegar, salt and sugar, all together to mix well and heat for several minutes. Pour the filling into the soup. Put the prunes, without pits, allow the soup to boil once and cook on very low heat for 15-20 minutes.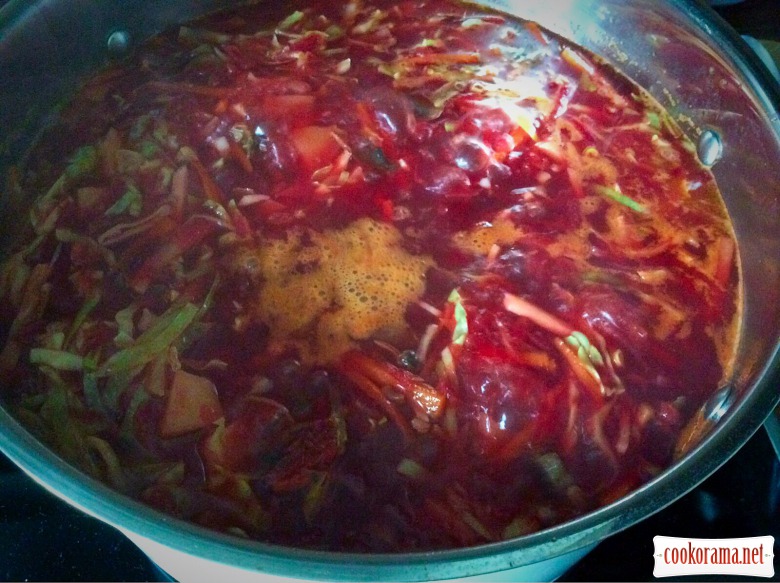 In CNC przygotowana vitality Tsibulya I Lavrov sheets.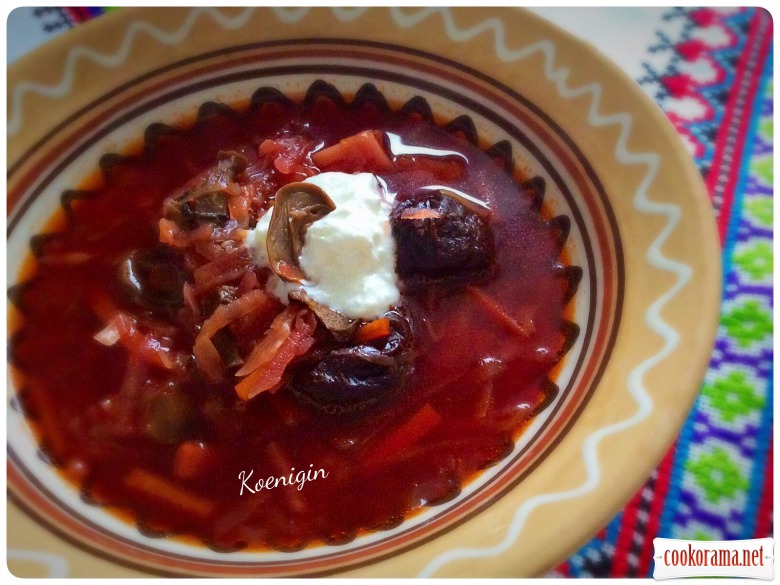 If you wish to submit to soup sour cream.
Bon appetit!